Ask any avid 4x4er, and they'll tell you that no matter how rugged your 4×4 is straight out the factory, you'll still need to modify it in one way or another before hitting the Australian off-road. Nowadays, there are thousands of different 4×4 accessories meant for enhancing your vehicle's protection, performance and storage capacity. Making sure your 4×4 is properly protected when driving through rough terrain is essential to reducing the risk of getting stranded in the middle of nowhere, and ending up paying thousands of dollars on costly repairs.
Believe it or not, you can buy 4×4 accessories online without breaking your bank. In fact, you don't need much more than a bull bar, running boards/nerf bars or side steps, and rear bars to make sure your vehicle has an extra layer of protection against impact. If you're new to 4x4ing and don't feel confident shopping for 4×4 accessories online, here's what you need to pay attention to in order to ensure you get the right product and the best value.
4×4 Bull Bars
The bull bar is often the first 4×4 accessory that's installed when preparing a vehicle for the off-road. Whether you're touring Australia or venturing off the beaten trail, a bull bar is the most important piece of protection equipment your 4×4 can have. It is basically a large piece of manufactured metal designed to protect the front of your 4×4 from collisions that may end up damaging the engine and other parts found under the hood. Bull bars are usually used by people who like to tour long-distance in order to protect themselves and their 4×4 from animal collisions or people who off-road and need to protect their 4×4 from impact from rocks, trees, animals or any other type of debris.
The first thing you need to decide on before you buy 4×4 accessories online, no matter whether bull bars, side steps/nerf bars/ running boards or rear steps, is the type of material the unit is made from. The 3 most popular materials for manufacturing bull bars are steel, aluminium and plastic. Each of them has its own distinct advantages and is suited for different purposes.
Steel – Bull bars made of steel provide the most protection, and they can withstand most animal collisions without damage, making them great for people driving along rural highways and off the beaten trail in peak 'roo time. Steel bull bars require very little maintenance, are easy to repair and are more affordable than aluminium bull bars. On the downside, steel is heavy, about 30% heavier than aluminium. Depending on the type of bull bar you choose, you can expect it to add anywhere between 30kg and 100kg.
Aluminium – Aluminium bull bars are quickly catching up to steel models in terms of strength, while still weighing significantly less. Many people opt for aluminium over steel, simply because the lower weight doesn't impact their vehicle's mileage that much. However, aluminium bull bars are more expensive and have lower tensile strength. Plus, if they aren't polished, they will eventually start getting dull when exposed to the elements.
Plastic – Plastic bull bars became a viable option only recently. They are the lightest out of all types, but they're also the weakest. Pushing out a plastic bull bar is fairly easy if it gets bent or pushed in through impact. This makes these bull bars more suitable for use in urban environments. They look great, and some are designed to lessen the impact on pedestrians. So, if, God forbid, you accidentally hit a person, you're less likely to kill them with a plastic bull bar than with a metal one.
No matter whether you go for a steel, aluminium or plastic bull bar, there are a few important factors you'll need to consider. For instance, the bull bar needs to be ADR compliant. ADR compliance refers to the form and shape of the bull bar and its ability to absorb impact. The bull bar shouldn't block headlights, have protrusions, forward-facing bars and sharp edges. Also, the airbags must still deploy at the right impact. Australian manufacturers are unlikely to manufacture bull bars that aren't ADR compliant, whereas imported bars from Asia may not be designed to the same standards. Buying a bull bar that isn't ADR compliant will put you at risk of the airbags not deploying or deploying prematurely in an accident.
Additionally, the bull bar should include rated tow points and high-lift jack points for recovery. Rated recovery points are the best add-ons you can have on a bull bar. They show that the bull bar has been inspected and tested by a third-party engineering firm and given a rating. If the bull bar you fancy comes with tow and jack points, it's definitely considered a big bonus.
4×4 Running Boards, Side Steps and Nerf Bars
These 4×4 vehicle accessories offer not only protection but a convenient way for people to get in and out of a vehicle as well. This can come in handy if you have children, pets or someone with limited mobility. Although similar, there are quite a few differences between running boards, nerf bars and side steps.
Running Boards – These are flat and run the entire length of your 4×4's cab. They provide a uniform, wide stepping surface and meet the carriage of your 4×4, so there's no major gap between the two. The shared line of the truck cab and uniform stepping surface make running boards an integrated, streamlined choice as a step. Their wide surface also makes them safe and stable for people with shaky balance or limited mobility.
Nerf Bars – These are designed to protect the undercarriage and sides of your 4×4 from the debris that's found off the road. They've gained popularity as an extra step due to their sporty and sleek appearance. Most of the time, they're spaced away from the body of your 4×4 cab, allowing them to stand out visually. Most nerf bars are oval or tubular shaped and provide a no-slip, flat stepping area at cab doors.
Side Steps – Side steps are a great choice for people who just want an extra step when getting in and out of their 4×4. They're smaller than nerf bars and running boards. In fact, they're only slightly larger than the width of your foot, so they won't alter the look of your 4×4 too much, while still providing a compact stepping option.
Regardless of which option you decide to go for, you'll find side steps, running boards and nerf bars in a wide range of configurations and specs. Most of them are made of aluminium or steel for durability, and they are usually black or chrome finished, textured or rubberised. Running boards and nerf bars are also available in cab length or wheel-to-wheel length. If you decide to go for wheel-to-wheel running boards or nerf bars, you'll be able to access your truck's bed easily, which is especially beneficial if you're not very tall, if your 4×4 is lifted, or you need an easier way to access your roof rack.
4×4 Rear Bars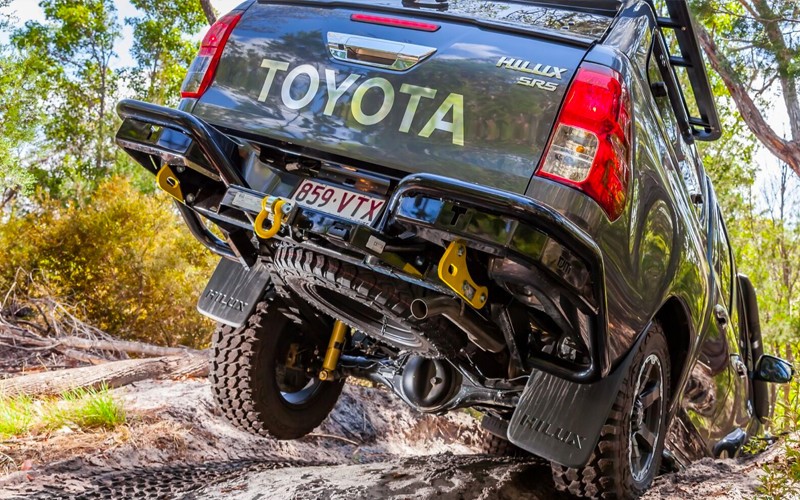 Rear bars are the polar opposite of bull bars – they are protective accessories that wrap around the rear of your 4×4 to protect it from impact, hold jerry cans, spare tyres and other 4×4 vehicle accessories. Rear bars are multi-purpose accessories, providing numerous benefits. For instance, they provide a better departure angle and increase clearance. One of the easiest ways to damage your 4×4 is to drive over something that's taller than your vehicle and dent a panel or rip a bumper off. Since many 4x4s have bumpers and rear panels that hang low, fitting a rear bar can prevent unnecessary damage. Ideally, the rear bar should extend 20mm on both sides of your vehicle in order to ensure that if you slide into a rut and your 4×4 hits the sidewall – the bar will take the damage instead of the panels. Further, make sure the latches you get aren't loose and work well
Next, 4×4 rear bars provide better load distribution on your 4×4's chassis when towing. Additionally, the rear bar can serve as a base to fit extra 4×4 gear and accessories. Some of the accessories you can fit include jerry can holders, swinging tyre carriers, shovel holders, tables, lights, high-lift jack holders, etc. Many 4x4s have their spare tyres under the vehicle itself, so if you have a rear bar to place your spare tyre onto, you'll be able to utilise the extra space for something like a long-range fuel tank.