No one expects to look at their best while pounding on a treadmill, but you don't want to look at your worst either.  Here are a few pointers to looking good whilst working out: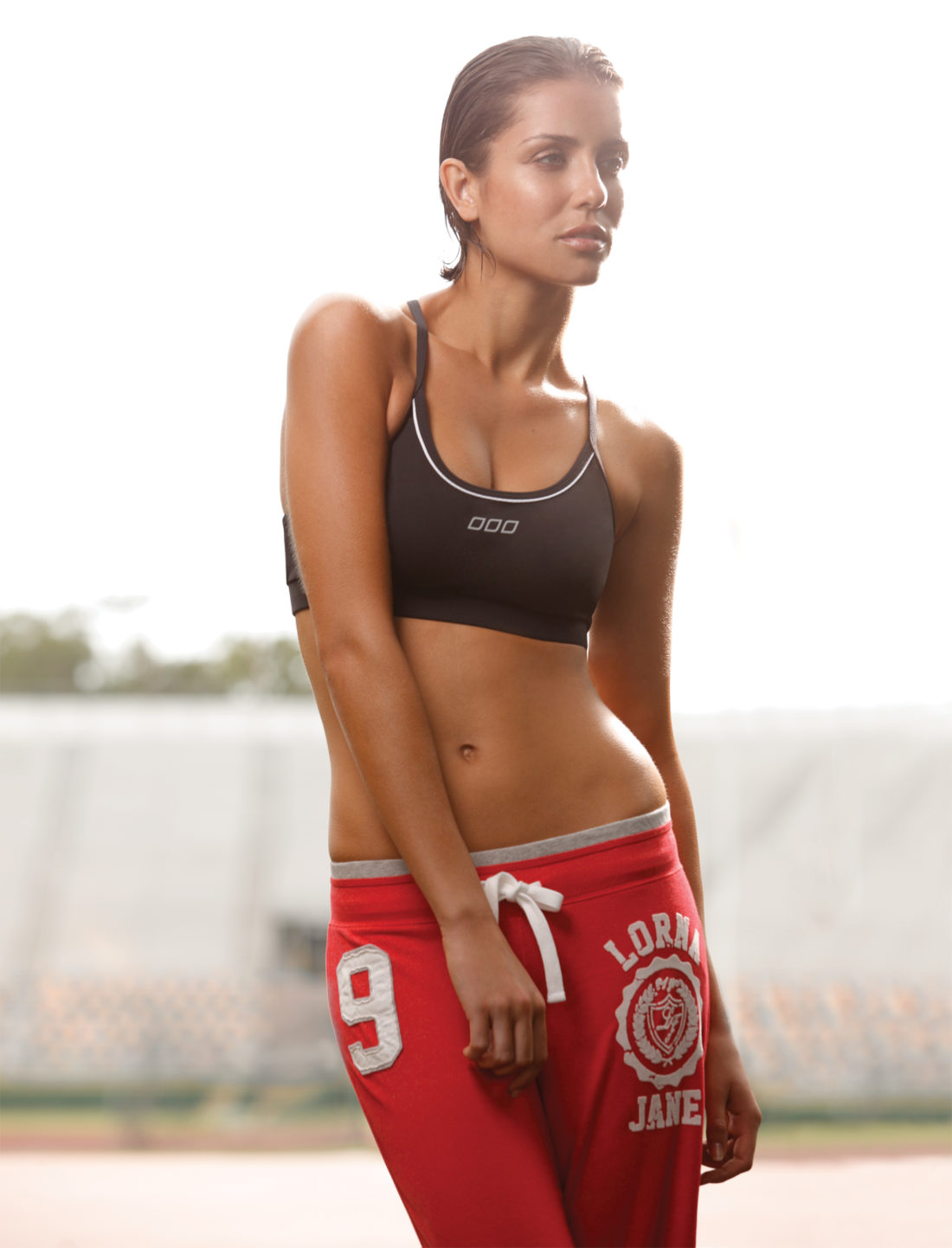 Make sure you flatter your figure
Just as you would for any outfit choose clothes that flatter your body shape.  Body parts you are happy with accentuate and draw attention to them.   If there are parts of your body you are less confident with, wear baggy items on that particular part of the body.  It is key to pick clothing that you feel very comfortable in.  Whilst shopping, if you try an item on that you are not perfectly happy with, don't buy it!
Pick breathable materials
Sweat patches are most definitely not a good look and are easily avoidable.  Avoid wearing cotton material as during an intense workout the material will absorb both heat and moisture and cling uncomfortably to the skin.  Choose an alternative type of material that is lightweight and breathable such as spandex, nylon or polyester.  These draw moisture away from the skin.
Choose a well fitting sports bra
An ill fitting sports bra looks unsightly and can lead to health problems including breast, neck and back pain.  To ensure good posture and keep your breasts in good shape pick a supportive bra.  Take the time and care to choose and be fitted for a supportive bra that fits perfectly.  This will be invaluable both in the short and long term.
Use color to boost your mood
There are always days when exercising seems to be a chore and it is hard to get motivated or develop the right frame of mind. For these days invest in some high performance activewear which is very colorful and vibrant as this will brighten and liven up your workout regime.
Accessorise your outfit
You are obviously not going to wear dangly earrings or bracelets while working out at the gym.  But what you can do is invest in some coordinated items.  Having a coordinating gym bag and water bottle to match your workout gear adds both fun and injects some of your personality into your outfit.
Tame your hair
An energetic workout does no favors for loose hair.  Under the duress of intense exercise long hair can soon become tangled and look bedraggled, not a favorable look.  Instead go for a high ponytail style that keeps it completely out of the way.  This also helps prevent the hair from getting sweaty.  Using sweatbands with short hair styles keeps hair neat and tidy and minimises sweat in the hair
Reduce the radish look 
Sporting a red-faced look doesn't look good on anyone, it can be embarrassing but it can be avoided.  Plenty of hydration helps reduce this process, so drink lots of water before, during and after exercising.  Making sure a plentiful water supply is always available is important.  You can also tone down redness by using a water spray or try to even out your complexion by wearing light, mineral face powder.
If you look good, you will feel good and be even more motivated.