The beautiful city of Hyderabad is located in Telengana state in Southern Indian and is its capital. There are indeed various activities to undertake during the trip to this city. You can visit the Golconda Fort, Qutb Shahi Tombs, Moula Ali Dargah, Charminar, Ramoji Film City, Jungle Safari at the Nehru Zoological Park, and shop at Laad Bazaar and go karting at Runway 9. As a matter of fact, there are endless activities to indulge in during the trip as there is something or the other for everyone, irrespective of age and gender.
Must do things in Hyderabad
Qutb Shahi Tomb, Ibrahim Bagh: The stunning tombs of Qutb Shahi at Ibrahim Bagh are one of the most visited places in the city, located close to Golconda Fort. The tombs commemorate the 7 rulers of the Qutub Shahi dynasty who once had ruled this land. The cenotaphs stand on square platform and constructed in Hindu, Pasthun and Persian architecture and decorated intricately using beautiful looking chandeliers covered by smooth velvets and silver poles as support. Few such tombs come with golden spires which make them to appear distinguishable amongst others. The tombs having spires tend to mark the Sultans' burial ground. Although the cenotaphs have been ignored for a long time, their elegance and beauty was restored by Sir Salar Jung III. These historical sites, since then have been grabbing the attention of tourists.
Golconda Fort: It is also referred to as the 'Shepherd's Hill'. It is among the city's must visit western most landmarks and an architectural marvel. It was built during the reign of the Kakatiya dynasty on a small granite hill and has witnessed rise & fall of numerous dynasties at different times of history. This fort measures about 400ft. and attracts travelers, archaeological enthusiasts, history buffs and others. Visiting this historic monument will help you travel back in history and get to know more about the kings who ruled this place. Moreover, its exuberant and detailed architecture does showcase the past glory.
Royalty of Chowmahalla Palace: Palaces & Forts for long have been the fame and reputation of emperors and kings. One such example is the Chowmahalla Palace which was once the Nizam's official residence, displaying royal grandeur, architectural taste and influence of the erstwhile Hyderabadi rulers. This meticulously designed palace for several decades had hosted grand celebrations, did witness numerous historic events and showcased the Nizams' royalty. Constructed over 40 acres, it has elegantly crafted interiors, detailed architecture, while its layout is inspired from the palace of Teheran's Shah in Iran. It is further been divided into southern and northern courtyards, boasting of having several gardens along with intricately designed fountains, thus defining royalty and opulence of the erstwhile rulers.
British Essence surrounding Koti Residency: This mansion is popularly known as the British Hyderabad Residency or plainly the Koti, displaying charms and elegance of those bygone eras. It was James Kirkpatrick who had constructed this koti between 1798 & 1805. He was among the British residents of Hyderabad and this koti had served him as a private mansion. It also stands as a live testimony to the Nizam's golden era and inspired from the U.S. based White House. It had once served as East India Company's embassy and then got converted into Osmania Women's University College.
Charminar: This is a monument that stands tall and is considered to be the very symbol and sign of tourists entering Hyderabad. It is popular globally and the city's most important landmark. You should definitely make it a point to visit this place and stroll around to know how Old Hyderabad appears to be and enjoy your experiences. It was in 1591 that this monument had been constructed by Md. Quli Qutb Shai and is a stunning minaret, which stands on Musi River bank. Previously, it was regarded to be the city centre and enclosed by Makkah Masjid and Laad Bazaar. This architectural marvel has been built using Indo-Islamic style, having 4 different gateways. The structure with 4 minarets has domes have been decorated with numerous artefacts and intriguing designs. You can shop at the markets close by, taste delicious Hyderabadi biryani and other dishes!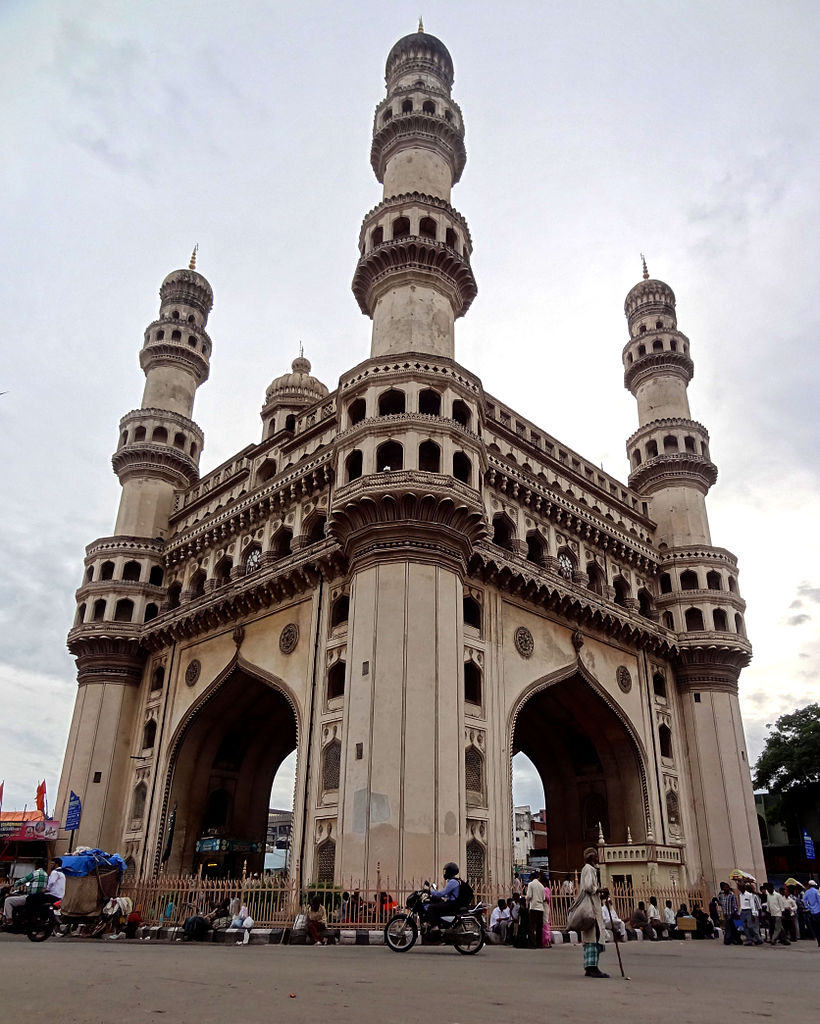 Ramoji Film City: This is the place where movies from all parts of the country are made. There is conducted a tour that takes and shows tourists the entire film city and takes full day. It is complete entertainment and will keep you spellbinding the time you enter the place until you leave. It is not just any ordinary record setting film studio, however, also is popular for its artificial and natural attractions. It has hotels, amusement park, inbuilt film studio and you should definitely check out the 'Bahubali' movie set.
Hussain Sagar Lake: This artificial lake is quite serene and calm. Strolling around the lake does offer peace of mind and inner happiness. It is created in 1562 by Hazrat Husain Shah Wali and once had served as the city's primary water source. Here, you can indulge in sailing or simply check out the surrounding beauty. It is close to the other popular city landmarks and receives water supply from River Musa. You should not miss out on the magnificent views it has on offer. Within the lake is established a Gautam Buddha statue of 32ft. high, which enhances the appeal and charm of this place. This lake is best visited during the evenings, where you can take lots of selfies and pictures of natural things.
Moula Ali Dargah: This dargah is located in Hyderabad's Moula Ali suburb, on a hilltop. It has been established in Prophet Muhammad son in law's memory and hence, an important religious place. It is known to have Ali's handprints and built originally as a masjid. It is known for its healing powers and hence, is regarded as a pilgrimage centre.
Best resorts in Hyderabad are the best places to enjoy the stay. They also are affordable and have all necessary amenities and facilities.