Your best bro's bachelor party is a once-in-a-lifetime celebration. You want to make it memorable and super fun. You probably have some Bachelor party ideas for your groom-to-be friend. But you also should consider the latest bachelor party trends before starting the planning process. Nowadays, a one-night Bach clubbing party is outdated.
That doesn't mean you can't take your party crew clubbing. After all, cities like San Diego have rich nightlife and great DJs. But taking the bachelor party to the waters of San Diego is a fun way to start the single send-off celebration and give your best friend a chance to relieve stress, catch up with friends and have fun before his big day. A three-hour yacht tour on the waters in San Diego will make your guest of honor feel like a real captain.
So here are a few pro tips that will help you in planning a bachelor party on San Diego's waters:
1. Decide on your size group the bachelor party will be
Depending on your group's size, there are different yachts and boats available. This is due to coast guard regulations and the limitation of different yachts, boats, and pontoons. Let's make this simple. There are a lot of boats available that hold up to 12 guests max. When having a smaller group of friends for the beach party these boats are perfect to rent.
However, if you have 13 guests, you cannot go on these smaller boats. You will need to book the next size-up yacht.  Make sure your headcount is firm when booking boat charters.
When you have larger groups, 13-30 guests, you will need to book the larger party and rent a yacht that can accommodate all of your guests. These boats are licensed to carry larger groups, these boats will be bigger and have more room on board to accommodate your guests. Know that the hourly rates for these larger yachts tend to be more expensive and there are fewer large-size yachts available. When you know you will have 13 or more guests, book these party yachts early. They get booked fast.
Either size boat you will enjoy gorgeous views while you can relax and drink cool beer, champagne, or cocktails while your captain tours you out on the water. It is a perfect San Diego event.
2. Choose a pontoon for your San Diego Bach Party
After you carefully selected your 12 guests for the bachelor party, we recommend you rent a party pontoon for some extra fun. These pontoons are designed to have fun. They come with coolers full of ice to store your drinks, have speakers to crank your tunes, and most come with water toys to enjoy getting into the water. They all come with Captains who will tour around Mission Bay to see the sights. There are different size pontoons available some have slides; others are double-decker and there are even ones with Jacuzzis on board. Call your local party planner to determine which pontoon is perfect for your group.
3. Choose a Party Yacht on San Diego Harbor
When your bachelor party group is going to be large, 13-30 guests, get out on the water with a large party yacht. These yachts have multiple areas for your group spread out on, interior cabins to chill in, sun tanning areas, an interior bar area, bathrooms, a kitchen for snacks and some even have a DJ set up. These yachts go out on the San Diego Harbor.
You will see the sights of the USS Midways, Star of India, Coronado Bridge, and San Diego Skyline. These large party yachts are perfect for larger bachelor party groups. They come with a licensed Captain, crew, and bartender to serve your cocktails. All boats are BYOB which makes drinking fun and affordable.
4. Set the right date
San Diego has gorgeous weather year-round. The beach weather starts in the early Spring and goes until mid-October. In the summer months, the sun stays up later until 8 PM. This awesome weather gives you many days and hours of sunshine to book your beach party on a boat.
Be sure to set a date for your Bachelor that will work for everyone. Find a beach party weekend that is suitable for your group and rent the boat or yacht as soon as possible. Stay flexible on the days and times the rentals are available. When the sun comes out in San Diego, everyone rents these boats.
5. Plan other water activities.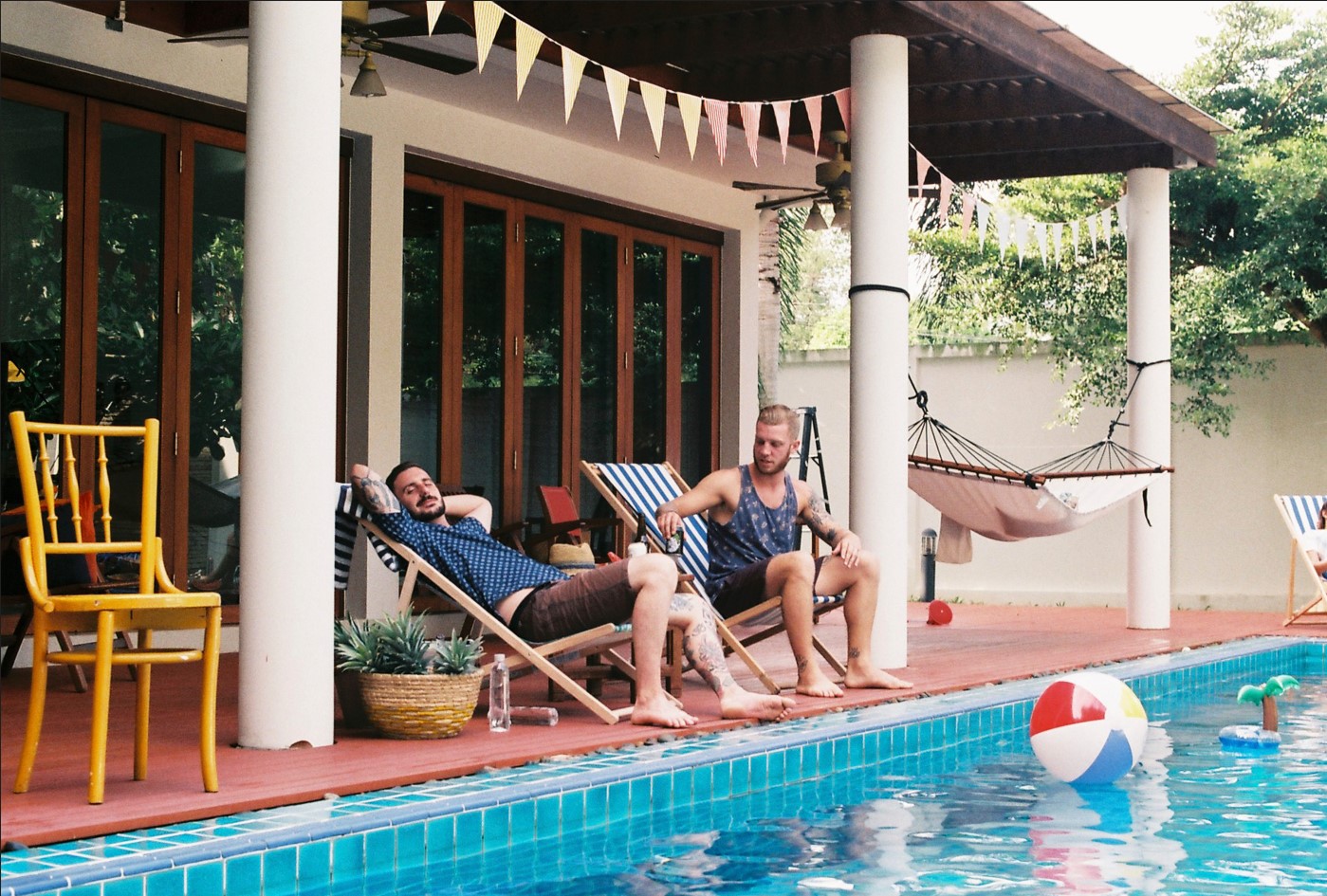 You can do lots of fun activities on San Diego's waters, besides partying on a yacht. Here is a list of other fun water activities:
Rent Stand Up Paddle Boards
Kayak with the Sharks in La Jolla Shores
Surf in Mission Beach
Snorkel in La Jolla Cove
Boogie Board in Pacific Beach
Pool Party at the house
6. Plan a pool party back at your rental
When you rented one of those killer houses with a pool, we suggest throwing a pool party on one of the days. Get the BBQ going, pick up some cocktails and beers, crank on the music and then book beautiful pool party girls. These girls will take care of your poolside party needs and keep the bachelor party atmosphere chill and fun. They will serve drinks, play you a game of beer pongs, and keep the party festive and fun. They are the perfect PG way to make the bachelor party successful.
7. Choose a party theme
Make the bachelor party fun by choosing a party theme that everybody will love. Get nautical on the water with some cool captain hats or pirate-themed outfits. For the pool party, you can also order balloons and buy pool floats to keep the water festive. Pool party girls love to play with pool floats.
8. Get an expert party planner's help
There are many details to take into consideration when planning an epic bachelor party on San Diego's waters. It is always best to work with a reputable bachelor party planner such as San Diego Bachelor Party. They are a one-stop-shop. They know what size yacht to rent, what is cool to do in the city, hook you up with fun entertainment packages, and have the ins for all the parties in San Diego. So, sit back and relax while your bachelor party package gets tailored to your group size and needs. Call a pro.
Liz Hahn has years of experience in the party planning industry and knows the best bachelor and bachelorette venues and rentals in the San Diego area. Liz is also the founder of San Diego Bachelor Party, a party planning agency that provides its customers with tailored bachelor and bachelorette party experiences.