The bond between a mother and daughter is like no other. A relationship which experiences, disagreements and fights yet contains an incomparable amount of love, why not treasure this precious bond with a memento that you can share between the two of you. Whether it's a gift for Mother's Day or a surprise token of love, here are our favourite mother daughter pieces that you'll appreciate for a lifetime.
Mother & Daughter Ring – Square Knot Ring
One of our favourites has to be this timeless ring. Featuring a tied knot to symbolise the bond between mother and daughter, this ring not only carries a beautiful design but message. Splitting the band into two (representing the mother and daughter) one side is a simple silver band design whilst the other features crystals. Enhancing the design, the crystals bring that all important bling that we all like. Now it's up to the both of you to decide who's which side. Serving as a reminder of the infinite love between mother and daughter, it's definitely a gift to be treasured.
Mother Daughter Thick and Thin Ring
Adding a more geometric design to a jewellery collection, this modern piece will not only add interest to your collection but be a unique reminder of the bond with your daughter/mother. Sporting a classic silver band, the ring's design is transformed with the addition of vertical rectangles which are placed centre stage on one's finger. Varied in size, it represents the two pillars (mother and daughter). One keeps its simplicity with a silver design whilst the other includes crystals. Another lovely piece which symbolises the immense bond between mother and daughter.
Highs and Lows Wave Ring
This ring is great for those after a more elevated design from the traditional silver band. Featuring subtle wave-like movement, the ring is an elegant piece of work to have upon one's hand. Nestled between the waves are delicate crystals, adding a touch of bling to the design and complimenting the heart of the ring's meaning. A lovely ring to share with your mother/daughter this ring will suit all jewellery preferences. Like many of our pieces, this one also includes a deeper meaning to share with your loved one. Symbolising the highs and lows of life, it represents the one who will always be there for you.
Mother & Daughter Heart Knot Ring
Injecting a bit of colour into your collection, this ring has a timeless design which has been taken to the next level by featuring a unique tone of crystal. A rose gold band begins the design whilst the knot is the star of the show. Representing two entities, one half of the knot continues the simplistic rose gold band design. The other half features pink toned crystals, which has been perfectly paired with the warmer toned metal. Symbolising the untied bond between mother and daughter, this ring not only offers a heart-warming message but is a great way to add interest to anyone's jewellery collection.
Forever Linked Together Chain Link Ring
For the ones who prefer warm toned jewellery, this ring is right up your street. Gold runs throughout the design with hints of silver crystals to add some umph and sparkle to this timeless ring. Three gold chains are linked with crystals, wrapping around the front of your finger. Its simplistic design makes it a great addition to everyone's jewellery boxes whilst the mixing of metals adds that unique element. Emphasising that heart-warming message between mother and daughter, it's a beautiful gift for those that may be experiencing some distance in your relationship.
Chase The Sun Move Mountains Make Waves Ring
A ring which has amplified what could be a simple design, it perfectly collides the silver and gold tones to create a wonderful and unique piece. A simple silver band begins the design as well as a silver circle placed as the decoration. To add detail the circle features silver mountain engravings, surrounded by gold wave engravings as well as a sun. Adding a hint of colour to this subtle design, it's a ring which will spark interest. A beloved little gift to inspire.
You Are My Sunshine Sun Ring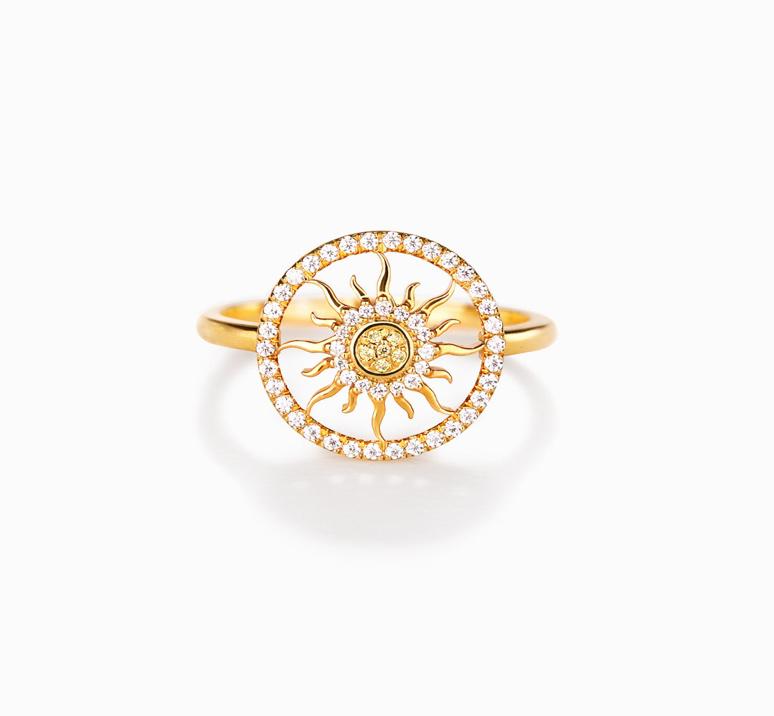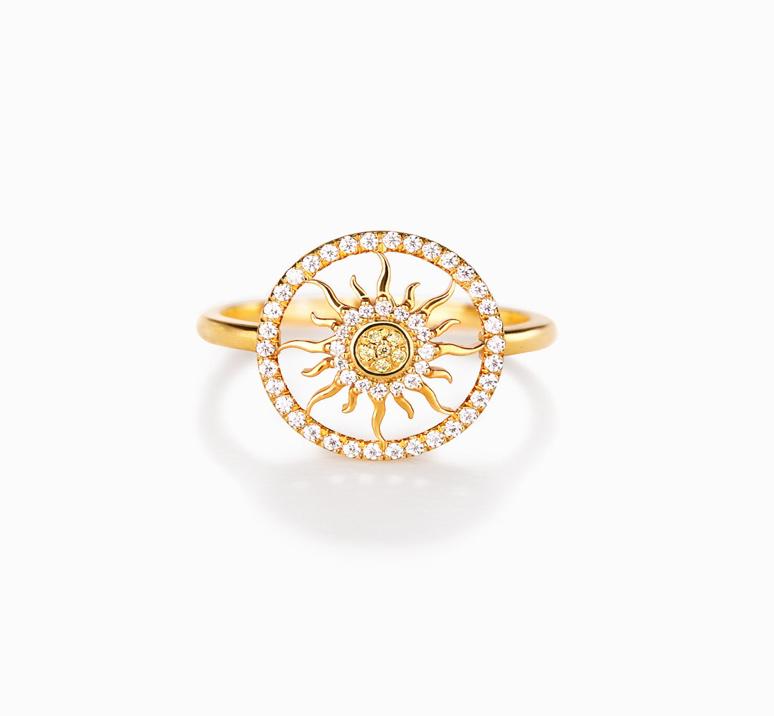 Featuring a lovely heart-warming message, this dainty ring will draw eyes and become a beloved piece of your collection. A unique design, the ring features a simple golden band, whilst the show stealer consists of crystals and intricate work. A large circle band begins the rings front design, packed full of crystals. Within the heart of the circle sits a complex sun made from cold and silver crystals, with solar tails connecting the design together. An amazing ring design, it's definitely a unique piece which you and your loved ones can share. It also reminds me of the film Tangled, so if that's a shared love between the two of you, what better gift can there be!
Always Under the Same Moon Crescent Moon & Star Ring
A more unique addition to one's jewellery collection, this ring not only features a more intricate design but also mixes tones together to create something truly compelling. A warm gold band wraps around the finger, whilst the two sides are met with astrological beings. A large crescent moon made from crystals hugs the smaller star, featuring gold spikes and a crystal in the heart of the star. A great gift option for those that have distance between them, it's a friendly reminder of the strong bond you have with your mother/daughter.
We hope you enjoyed our list of jewellery pieces you and your daughter/mother can share together. Giving you just a peak into our Mother Daughter collection, check out our dedicated page of wonderful pieces to gift to that special daughter/mother.